March 2013 Newsletter: "The Big Picture"
Dear Friend of EPN,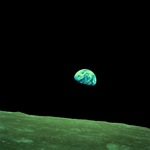 March is the month in which I was born. And I don't know if you're like me but often at this time of year I find myself stepping back to reflect and gain some perspective. The mountains around our offices can serve as an aid. If you hike into the woods and up to elevation you can find a quiet spot to gain a view back upon the city, from outside and above, and see the bigger picture.
At the Environmental Paper Network (EPN) we bring together organizations and people in the conservation community to get them outside their individual boxes and obtain a 30,000 foot view of issues of climate change, conservation, and the forest and paper industry. Our members have used that perspective to craft a Common Vision for Transforming the Paper Industry, to track progress through the State of the Industry reports, and to continue to evolve advocacy priorities as the view has shifted over the last decade.
From this 30,000 foot view it is more clear than ever that energy use and forests will play a decisive role in the management of climate disruption over the coming decade. It's logical therefore that using forests FOR energy will be at the center of that discussion. The forest and paper industry is the largest user of bio-energy in the United States. More than all other industries combined. That's why EPN and its members are engaged in the emerging science, policy and life-cycle assessment discussions around the carbon emissions profile of cutting a forest to make paper and energy. Read more about this 2013 EPN priority in the article, The Complicated Case of Black Liquor: Part 1 and Part 2.
From this 30,000 foot view it is clear that even as we celebrate one major success for the rainforests and impacted communities in Indonesia this year, that there is much more hard work to be done. Asia Pulp and Paper's announcement is a great step with tremendous potential, but conservation groups have been clear that paper purchasers must still wait for proof of implementation by independent monitors.
The big picture also includes another significant player in pulp, paper, and deforestation in Indonesia: Asia Pacific Resources International Limited. APRIL, as the company is known, is now receiving increased attention from NGOs. A press release from WWF has informed the marketplace to, "avoid being associated with the business practices of APRIL and its associated companies." Read more here to learn why.
There are many pieces to put together to complete this puzzle. The organizations in our network individually and together have created various guidance documents, transparency tools, and scorecards for paper purchasers to identify and source environmentally superior paper products. Recently, EPN worked with Canopy and WWF to help reduce the risk of information overload or confusion and show how the various guides complement each other. We developed a new fact sheet for paper purchasers called….wait for it….The Big Picture! Get the new fact sheet.
Featured Member: ForestEthics
Sometimes the perspective of going beyond the pages and pixels and into the forest helps reveal the difference between business-as-usual marketing and actual gold-standard conservation and sustainability in practice. When gaps between the two are discovered we know it as greenwashing. This month's featured EPN member ForestEthics is petitioning the US Federal Trade Commission to review the claims of the Sustainability Forestry Initiative (SFI) for just that. Read the ForestEthics interview.
What's In Your Paper?
Congratulations to Harbor Paper for recently re-opening the mill in Gray's Harbor County in Washington, USA. The mill is once again providing 100% recycled paper products and about 175 jobs in the region.
As always please don't forget to check out the Top News feature below my signature.
Thanks to everyone for being part of our network.
Sincerely,
Joshua Martin
EPN Director

or contact us to make an offline gift.
A selection of this month's top news:
Canopy ~ Search Launched for the World's Greenest Newspapers
ForestEthics ~ 7 Years Since the Great Bear Rainforest Agreement – Time to Finish?
NWF ~ Study: Textbooks Under-recycled in the U.S.
AF&PA ~ Release: AF&PA Board Establishes 2013 Key Policy Initiatives
ForestEthics ~ Will the FTC Do Its Job and Act Against Greenwashing?
Washington Post ~Md., D.C. utilities pay paper mills burning 'black liquor' for alternative fuel credits
WIRED ~ Designing the Packaging-Free Future
Confederation of Paper Industries ~ RELEASE: Recycling of Valuable Materials Should Not Be Discouraged
The Paper Planet ~ The Complicated Case of Black Liquor for Our Rivers, Our Air and Climate Change 
Global Justice Ecology Project ~ Study: Permanent Increase in Atmospheric CO2 From Burning Trees for Energy
RAN ~ An Open Letter From RAN: What Do APP's New Commitments on Forests, Peatlands and Community Rights Mean for Buyers and Investors? 
Common Dreams ~ Genetically Engineered Trees for Bioenergy Pose Major Threat to Southern Forests
Re-Nourish ~ Design to Re-nourish
RISI ~ Feeding China's Appetite for Recovered Paper 
WWF ~ WWF urges Indonesia pulp producer APRIL to immediately stop pulping tropical forests 
Paper Planet ~ Grey's Paper Begins Production of 100% Recycled Paper in Edmonton [Video]
©2013 Environmental Paper Network
---
| | |
| --- | --- |
| | |