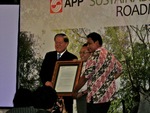 Dear Friend of EPN,

February's newsletter brings good news and hope for progress for our climate, forests and communities. Sinar Mas Group's Asia Pulp & Paper (APP), one of the world's largest producers of paper and packaging, announced Tuesday that it had halted clearing natural forests across its supply chain in Indonesia. The announcement comes after a year of negotiations with NGOs, and many years of public campaigning against APP over its deforestation impacts resulting in significant customer attrition.

The announcement February 5th of a historic new policy brokered by The Forest Trust was joined by press releases and statements from Greenpeace, WWF and Rainforest Action Network. The policy specifically addresses four areas: third party suppliers, high conservation value forests (HCVF) and high carbon stock (HCS) forests, peatland management, and social and community engagement.Due to previous broken promises the announcement has been greeted by the conservation community with applause combined with vigilance and caution.

WWF, one of the world's largest conservation groups and an EPN member, said in its statement that they have,
"…long called on responsible businesses to avoid sourcing from APP and until there is truly independent confirmation that APP has stopped draining peat soils and pulping tropical forests with high conservation value, we continue to urge paper buyers to adopt a wait for proof stance."
Back in 2008, the Environmental Paper Network organized a groundbreaking event in New York City called Pulp & Paper in Indonesia: Assessing Risks and Opportunities. More than one hundred representatives from large corporations and investment firms attended the event, which featured seminars and discussion with top international experts on forests, human rights, carbon, investment and responsible procurement. At the roundtable representatives of APP and Asia Pacific Resources International Ltd (APRIL), the only other large paper company operating in Indonesia, were afforded the opportunity to address participants, and offered assurances of the sustainability of their practices.
But in subsequent years investigative research repeatedly provided evidence of practices that were continuing to drive deforestation, and risks from illegal timber, social conflict and encroachment on endangered species on the brink of survival. One of the speakers in 2008 was Aida Greenbury, managing director for sustainability at APP, who acknowledged in today's article in the Washington Post that customers helped drive the new policy. She states,
"… a coalition of environmentalists, customers and some of the firm's own employees had pushed for an end to native forest logging."We heard very loud and clear what they want us to do," she said. "It is an investment for the sustainability of our business, not only an investment in the environment and the social impact we're creating."
The article goes on to observe,
"The move shows how activists are increasingly focused on securing environmental commitments from corporate giants rather than governments, which can be slow to enact sweeping policy changes."
But it's not just activists making this change and earning these results. It's all of us.
It's an increasingly informed consumer seeking healthy choices and slicing through greenwash. It's corporate sustainability officers attending conferences, working groups and webinars to embed efficiency and responsibility in their company's value system and supply chain and then moving those changes forward to implementation. It's designers, retailers, merchants and progressive paper companies making products available like the growing number of papers in the EPN/Canopy Eco Paper Database. And it is the member organizations of the EPN shining a light, conducting research, mobilizing consumers and accelerating the shift to market driven solutions.
In 2013 with the help of international partners like the European EPN we will build upon our role at the Indonesia Business Roundtable in 2008. EPN will help to coordinate the work of multiple expert organizations in our Network to advise corporate purchasers and financiers on how to avoid controversial fiber from Indonesia and assistance identifying supply chain and investment risks. Watch for more information this summer.Attention is now on Indonesia's other large paper supplier and its practices. Greenpeace has already sent a letter to APRIL Founder and CEO, Sukanto Tanoto, and RAN is offering a way for its members to encourage the company to meet or beat APP's new policy.
Featured Members: As You Sow and NRDC
Our featured member in January was As You Sow, and in our interview the accomplished advocate Conrad Mackerron briefed us on their latest work to drive corporate responsibility through shareholder activism.
For February, we catch up with Darby Hoover from the Natural Resources Defense Council (NRDC). Darby is another recycling superstar who's been showing us the way since before eco was cool. Now she's rubbing elbows with celebrities and athletes, and this month she'll tell us about her work to green the Academy Awards.
What's In Your Paper?
There's a new kid on the block making recycled paper products over in Edmonton, Canada. See a video about Grey's Paper at the Paper Planet, and share your thoughts on this innovative model for a local scale, lower cost recycled paper.
And please don't forget to check out the Top News feature below my signature each month. 
Thank you for your leadership.
With hope,
Joshua Martin
Director
P.S.  This month's newsletter is dedicated to the memory of our friend Becky Tarbotton, Executive Director of the Rainforest Action Network, whose leadership and vision helped achieve this landmark announcement from APP, and many other tremendous victories in preserving endangered rainforests and the rights of their indigenous inhabitants. Read her tribute in the New York Times.
photo of APP policy announcement copyright Glenn Hurowitz, Climate Advisers

or contact us to make an offline gift.
A selection of this month's top news:
New York Times ~ Paper Producer to Stop Clearing of Indonesian Forests
The Guardian ~ Leading paper firm pledges to halt Indonesian deforestation
Washington Post ~ Asian paper giant agrees to stop cutting Indonesia's natural rain forests
Mongabay.com ~ The beginning of the end of deforestation in Indonesia?
Greenpeace Canada ~ Exposed: Resolute Forest Products Breaks Historic Environmental Agreement
WWF ~ release: (Paper) Industry key to conserving forests as demand for wood projected to triple by 2050
WWF ~ Forests: What Future Do We Want?: Chapter 4 of Living Forests Report: Forest Products
European EPN ~ release: Will Paper Tigers Savage Your Brand Reputation?
RAN ~ release: Seismic Shift in US Publishing Sector as Major Players Shun Rainforest Destruction
Mongabay.com ~  NASA data registers strong deforestation signals in Sumatra, Borneo, Brazil, Gabon
Forest Footrprint Disclosure Project ~ Forest Footprint Disclosure Project Releases 4th Annual Review: 100 Companies Disclose Their Impact
Dogwood Alliance ~ New Company "EcoGen" Threatens Southern Forests and Climate
PIWorld ~ TC Transcontinental Broadens Scope of its Paper Purchasing Policy
Eyes on the Forest ~ Deforestation and Deadly Human Tiger Conflict (pdf)
Industrial Efficiency Technology Database ~ Emerging Energy-Efficiency and Greenhouse Gas Mitigation Technologies for the Pulp and Paper Industry (pdf)
PSI ~ Grocery Manufacturers Seek Government Aid to Recycle Their Packaging (pdf)
Vancouver Sun ~ Environmentalists, Forest Industry Struggle to Complete Great Bear Rainforest Conservation Plan
Greenpeace Canada ~ Sneak Peak! Green Tissue Guide App
Climate and Land Use Alliance ~ Progress Toward Consensus on Emissions from Tropical Deforestation
GreenBiz ~ Infographic: Companies, Consumers See Benefits From Green Manufacturing
PR Newswire ~ Domtar Helps Create New Model for Responsible Forest Management With Group FSC Certification
©2013 Environmental Paper Network
---
| | |
| --- | --- |
| | |